TDS - Mail Configuration - Gmail configuration.
If you are facing issue in Mail Configuration of Gmail ID and getting error as below, please follow the instructions as per the video link shared.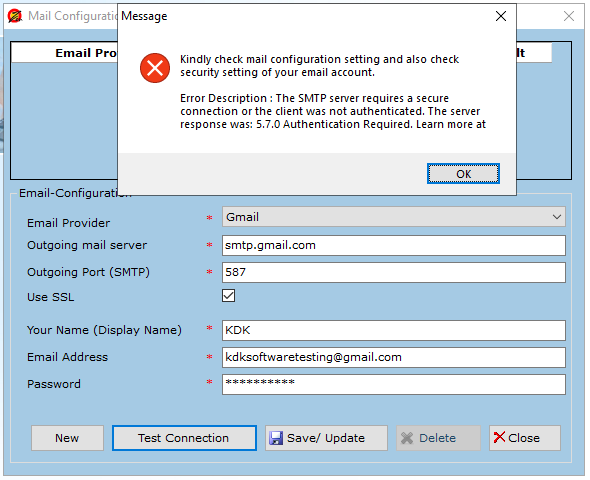 Kindly
check
mail
configuration
setting
and
also
check
security
setting
of
your
email
account. Error
Description
:
Failure
sending
mail.
Related Articles

Auto update from Mail Box

Auto update from Mail Box is a unique feature to read mails from the Mail Server. Common issues guideline - "Server did not accept user credentials": this error occurs in case of- Email Id or Password is incorrect. POP is disabled in Mail Account. ...

MAIL CONFIGURATION

This feature is a newly introduced feature in the Income Tax Auditor which helps the user to send Reports, Computation and ITR-V to the client. This feature also allows the user to get the copy of the aforesaid reports saved in the local system. ...

Mobile Number and e-mail ID Change Process

Mobile Number and e-mail ID Change Process Step 1: Open www.kdksoftware.com Step 2: Using your registered mobile number or User credentials login on the said website. User Credentials Registered Mobile Number > OTP Step 3: ...

How to upload TDS Return through Software?

Here is a step-by-step guide on uploading TDS statements on the income tax website: Regarding this first prepare the return, Process to generate TDS Return (Salary / Non Salary / Non Resident / TCS) ...

TDS : SQL SERVER Network Configuration.

KDK Software products are Multi-user software products that can be used in the Network area. There might be few situations arising due to some network failure or configurations, where some software modules would respond properly and some would not. ...