How to do GSTR2A-2B Reconciliation?
STEP-1
Login to
www.expressgst.com
>>>
Select
Company Name
for which Reco is to be done
Company's GSTIN Dashboard will appear.

STEP- 2
On
GSTIN Dashboard
>>>
click on
F.Y. &
Select Year
>>>
click on
View Annual Reco

STEP-3 Import Books Data
At this step, your data is already synced with portal; you just need to import books data by the Import books data button from the left side of screen.

Click on
Import Books Data
>>
>
Select
Month>>>
B
rowse the data file>>>
Click on
Import Now
.
Select the month for which you want Reco
Note: 1. If you want to import Annual data then import the data In the month of March.
2. If you do not have any accounting software then you can use our template.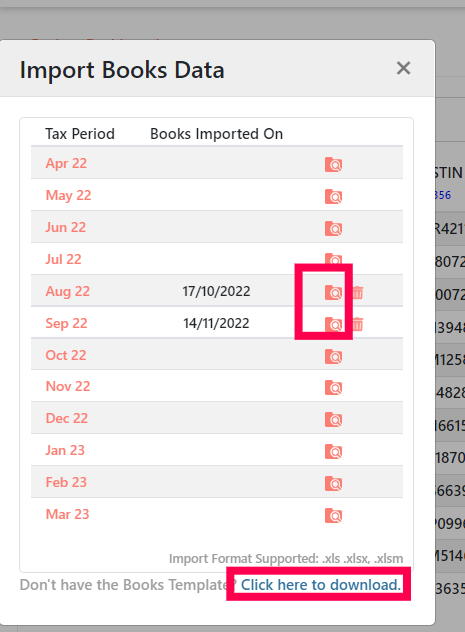 Now
Browse the file
and
Click on Import Now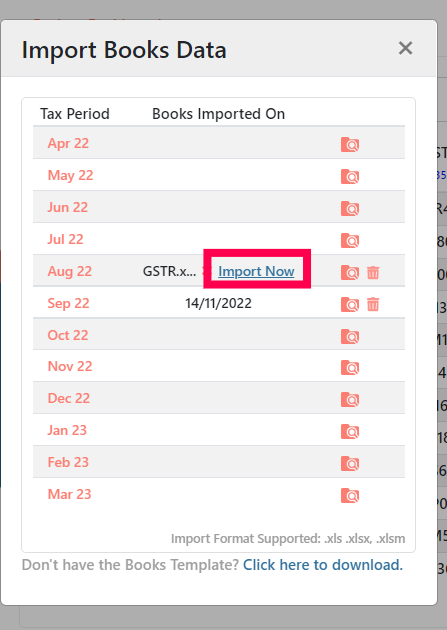 After Import, It will show the count of Invoices successfully Imported under the import status.
You can re-import if you want to otherwise you can click on Okay.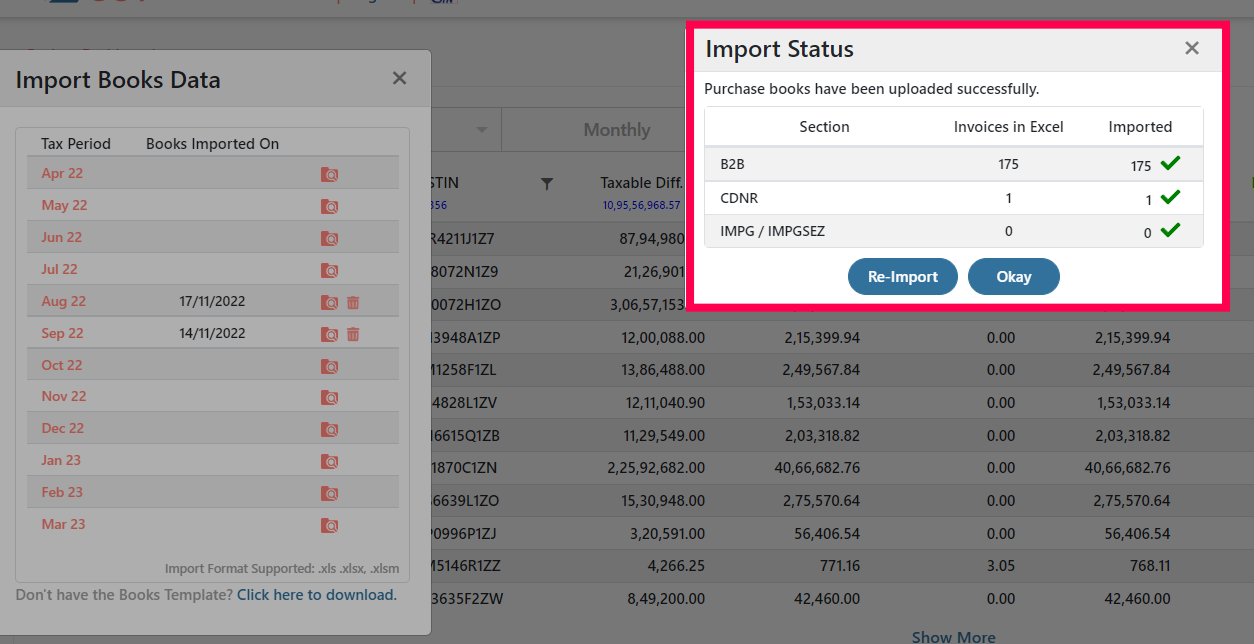 STEP- 4
How to reconcile the imported books data and 2A/2B data automatically synced from portal?
We have 3 types of Reco: 1. Supplier Wise
2. Invoice Wise
3. Month Wise
Step – 4.1 – Supplier Wise Reco
This Type of reco is useful when you want to check the Supplier wise Difference in Tax or taxable value.
It is done by sorting Invoices by supplier's name and checking if the Invoices of particular Supplier present in 2A/2B are also present in Books or not. Matching of Invoices is categorized into 4 types of statuses as explained below:-
Matched: Invoices which were found in books as well as on portal and amount is matched.
Partially matched: Invoices were found in books as well as on portal but there is difference in amount.
In 2B only: Invoices are found on portal in 2B only.
In Books Only: Invoices are found in books only, no corresponding invoices found on portal.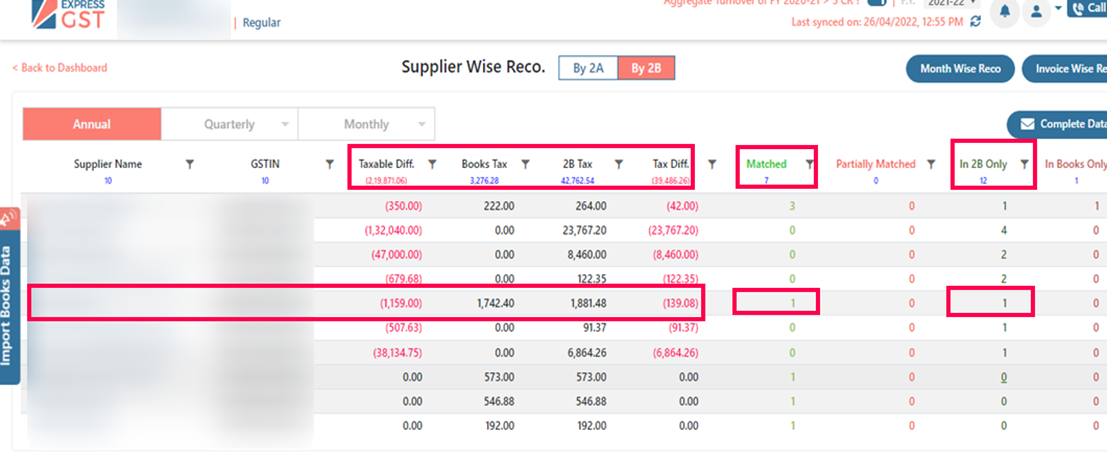 In the above example, it can be understood that 1 Invoice of Supplier is matched and 1 is in 2B only. Also it can be seen that there is Tax diff of ₹139.08 as per books and as per 2B which could be due to 1 invoice that was missed to be accounted in books and is appearing 2B only.
For details, you should click on supplier name and you will get the detailed bill to bill reco of the supplier as shown below.
How can we sort or filter the data in reco?
You can Sort the reco with excel like filter & Sorting options given at the column heads.
You can Sort Supplier Name Alphabetically in increasing or decreasing order by Clicking on Supplier name column head.
GSTN number can be searched by using Filter like button and similarly other columns can be filtered also.

STEP 4.2- Invoice wise Reco
Click on Invoice-wise Reco to view invoice wise data reconciliation.
Here you can do reco by selecting any of the Statuses vis-à-vis Matched, Partially Matched, in 2B only, in books only

Matched Status: Select the Matched status (put a tick) it will show you the invoices of your books totally matched with the portal data.

Partially Matched Status: Select the partially matched status to check the invoices matched partially
And similarly you can check the In books only and In 2B only by selecting the respective statuses.
How can we sort or filter the data in reco?
You can Sort and filter the data as discussed in Step 4.1 above
Step 4.3 – Month Wise Reco
Click on Month Wise Reco to get the reconciliation done by month wise.
You will get the graphical view. You can get the taxable and tax figures if you click on Flip Button here.
This is the Month wise Reco where you get to reconcile data by 2A, 2B and Books.
How to view Reco by 2A?
You can simply Click on the By 2A tag in the Supplier Wise Reco.

How to view Annual, Quarterly or Monthly Reco?
You can simply click on Annual Tag or Quarterly Tag or Monthly tag to view the required type of reco. You can select Multi-Month, Multi –Quarter in this Page.

How to email the Complete Reco data?
Click on Complete Data
Enter the email
Click on Send Button
You can email the complete Reco report Containing Supplierwise 2A-2B Reco and Invoice wise 2A-2B Reco. You can Click on Email Complete Data Button on right side of Page and enter any email id and get the complete reco report on the email within few seconds.